Safety at work
Nowadays occupational safety is an area which requires thinking ahead permanently. Legislator and business partner, but especially your employees expect a comprehensive and well planned approach that does not leave anything to chance.
Organisational as well as technical safety actions, on-site audits, fire prevention and on-site coordination are nowadays a requirement by law and are not only because of liability reasons a big aspect in companies.
Above the adherence of statutory requirements, occupational safety also has to be lived: on going safety-trainings and -instructions create a distinct awareness for possible dangers at the employees. The updating changes of requirements, especially in the legal area, must also be communicated to the employee.
In this subject we offer: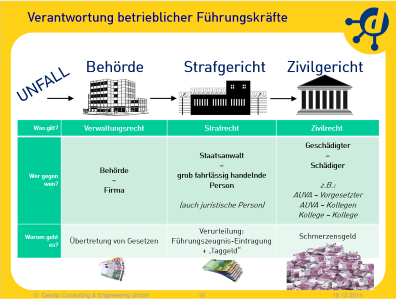 Safety expert for Austria and Germany
Transport of dangerous goods - ADR
Construction site coordination
Fire safety, construction site fire safety as well
Expert for PSA against fall from height
Securing of loaded goods
Explosion safety

Explosion safety documents according to VEXAT

Risk assessment

Safety audits and safety reviews
Evaluation of construction sites and work spaces
Risk analysis and plans of actions depending on that
Safety reports, Seveso

Consulting for work safety improvements
Assistance at building a safety systems
Execution of incident-and accident analyses
Trainings